Engine Marks Generational Change in Container Shipping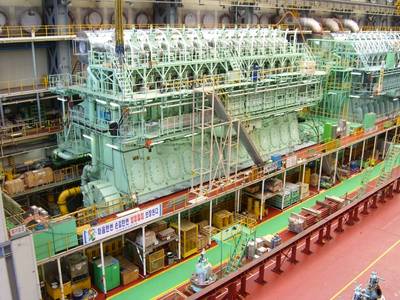 First S90ME-C9.2 unit successfully tested at Hyundai Heavy Industries Engine & Machinery Division in Korea.

MAN Diesel & Turbo has announced that its first super-long-stroke, 90-cm bore Mk 9 engine has successfully completed test bed trials at Hyundai Heavy Industries Engine & Machinery Division. The S90ME-C9.2 covers the new trend in container shipping demanding smaller bore, super-long-stroke engines with lower propeller speeds. Physically the largest two-stroke engine ever designed by MAN Diesel & Turbo, the engine will deliver a massive torque of 8.5 million Nm at 84 rpm and has a total output of 69,720 kW. The engine has been built by one of world's major two-stroke engine builders, Hyundai Heavy Industries, and it will be installed on a container vessel built at Samsung Heavy Industries for Orient Overseas Container Line (OOCL), a Hong Kong-based container shipping company well recognised for focusing on sustainable and environmental friendly technology advancements.

Since the beginning of the global economical crisis in late 2008, MAN Diesel & Turbo has experienced that shipowners are investigating possibilities for reducing operating costs, through measures like low-load optimisation of engines, slow steaming and operation with turbocharger cut-out. These tendencies led MAN Diesel & Turbo to offer possibilities supporting optimised propulsion efficiency by way of lower propeller speeds by using longer-stroke engine designs.
This, in combination with the need to meet the newly introduced Energy Efficiency Design Index, EEDI, made MAN Diesel & Turbo develop the MAN B&W super-long-stroke S90ME-C9.2. Developed specifically for container ships, the S90ME-C9.2 is based on the VLCC-optimised S90ME-C8, which in the meantime also found applications in a number of container ships.

Furthermore, the G series of engines with even larger stroke to bore ratios, has been made available, with G40, G45, G50, G60, G70, and G80 type engines supporting the tendency of using lower propeller speeds with a super-long stroke for all ocean-going ship types. Copenhagen, 26/07/2012In addition to the basic optimisation of the propulsion plant for container ship operation, by using the low propeller speed supported by the S90ME-C9.2 engine, the engine is delivered with the following three different MCR optimisations:

1) High-rated MCR with part load optimisation
2) De-rated MCR optimisation with part-load tuning
3) De-rated MCR optimisation with low-load tuning

The rebuilding and parameter set-up changes necessary for switching between particularly MCR points 2 and 3, and thereby ensuring optimum operation conditions for relevant trade patterns, are minimal. Expected SFOC curves for the different MCR configurations