Marine Geospatial Data Access Solution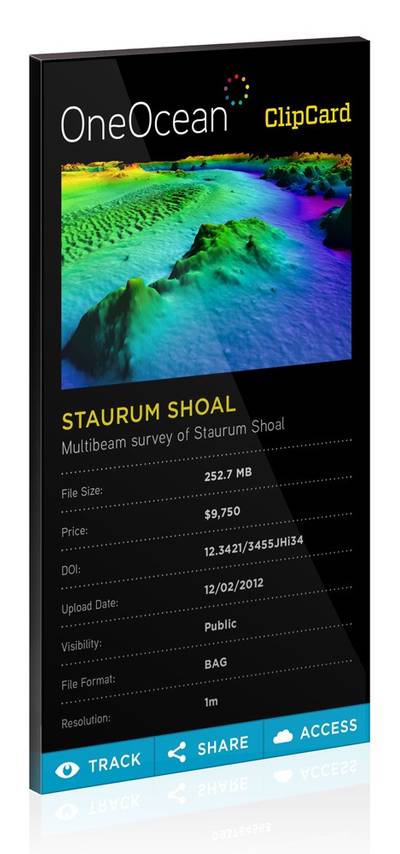 OneOcean Corporation beta release its ClipCard™, cloud-based innovation for managing, accessing & exchanging marine geospatial data.
Ocean data can come in more than 100 file formats, reach terabytes in size, and take a week to download. Users have limited tools for managing their own holdings and even more limited means of exchanging huge files with others. Because of the sheer magnitude of the data, valuable information remains dormant behind firewalls or on shelves, much of it used only once and then forgotten.

With ClipCard, it is now possible to instantly view and share key information from big ocean data, anytime, anywhere, without the need to transfer the data itself.

ClipCard presents a rich abstract of big data in a useful object that is created anytime data is uploaded to the cloud. ClipCard is linked to its source, but is only a fraction of the size, so it can be viewed and shared anywhere. ClipCard helps users understand what big data contains, and gives them the means to transfer the source data through the cloud when they need it.

OneOcean has partnered with Amazon.com, leveraging Amazon Web Services to provide a robust global cloud storage and fulfillment infrastructure. With Amazon's industry-leading web services technology, OneOcean users have multiple options for managing, accessing, and exchanging their data on every continent.

"Data is growing exponentially in volume, velocity, and variety. The challenge is putting it to work efficiently and effectively - getting it out of its silos and into the hands of the people who need it," said Ed Lazowska, Bill and Melinda Gates Chair of Computer Science and Engineering at the University of Washington. "OneOcean is working on a promising approach that could have a major impact on how big data is managed and shared across industry, academia, and government."

About OneOcean Corporation
Seattle's OneOcean Corporation is changing the way big ocean data is managed, accessed and exchanged across the globe. OneOcean has formed a unique team of software technologists, geospatial engineers, and data experts to develop an innovative service based in the cloud. ClipCard™ creates a rich abstract of big data that can be viewed and shared anywhere.