EMU Geotechnical Services put to Test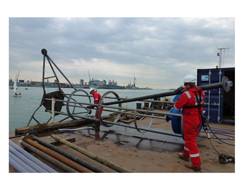 EMU Limited's newly expanded geotechnical services were put to the test recently when the company successfully completed more than 1000 cone penetration tests along the cable routes of a number of proposed offshore wind farms in Germany.
Equipped with the most up-to-date marine soil investigation technology on the market, EMU's geotechnical offering includes three and six metre variable frequency vibrocorers, Datem Neptune 5000 heavyweight CPTs, gravity and piston corers and a number of various sediment sampling grabs.
EMU's technical director Richard Cooke said that the company's continued investment in equipment, as well as its commitment to research and design in both geotechnical and geophysical survey techniques, means that the most innovative solutions are available to offshore developers for investigating and quickly progressing their developments.


"We employ the most technically advanced equipment available," Richard said. "By combining this with an in-house team of geotechnical experts we are very well placed to advise clients on the right hardware and most efficient techniques to ensure the best quality data and core samples are obtained within budget and timeframe. "

"In combination with our own specialist sediments analysis laboratories, which undertake comprehensive physical and chemical testing, EMU provides the complete geotechnical turnkey solution," he added. More information about EMU's geotechnical services can be found at www.emulimited.com.
With photo: A 6m core barrel being put into a vibrocorer by EMU staff before it is deployed
About EMU Limited: EMU Limited offers both consultancy and survey services to developers, regulators and other organisations operating in the marine environment. The company specialises in marine consenting solutions and the provision of geophysical, hydrographic, geotechnical, oceanographic, marine ecology, and water quality and laboratory analysis services.