MHI Unveil 'Super Giraffe Robot'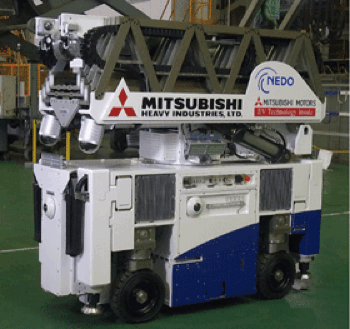 The newly developed remote control Giraffe Robot can reach up to 8 meters to control valves in hostile environments.
Mitsubishi Heavy Industries (MHI) has developed a remote-controlled robot, dubbed the 'MHI-Super Giraffe (MARS-C), which is capable of working at heights up to 8 meters (m) and moving freely in areas inaccessible by humans in, for example, highly radioactive environments. By changing the robot arm and/or tool attached at the arm end, the MARS-C can perform various tasks including valve opening/closing and radioactive decontamination work.
The MARS-C was developed as a "Research and Development Project for an Unmanned Disaster Response System" consigned by the New Energy and Industrial Technology Development Organization (NEDO), with the aim of accommodating various tasks needing to be performed at the Fukushima Daiichi Nuclear Power Station operated by Tokyo Electric Power Company: for example, valve opening/closing, decontamination work, leakage detection and identification, cutting, etc. The robot is powered by a lithium-ion rechargeable battery and is capable of five hours of continuous remote-controlled operation applying standard Ethernet computer network specifications.

The MARS-C comprises four modules: a platform module (movement mechanism), load lifting module (telescopic ladder), attachment module (robot arm) and end effector module (attachment tool component).

The platform module features 4-wheel drive and 4-wheel steering, features that enable counter-rotation (place rotation) and lateral movement and thereby enhance the MARS-C's agility in narrow spaces. Outriggers are provided to boost stability when performing work at substantial heights. The load lifting module features a 5-step telescopic extension system that can fully accommodate lifting of loads in excess of 150 kilograms (kg) at a height of 8m.
The attachment module, i.e. the robot arm, has 7 joints - the same number as the human arm - ensuring outstanding articulation, in addition to compact dimensions and lightweight construction. The end effector module, i.e. the attachment tool component, is a device enabling the opening and closing of valves. It features a mechanism that enables easy tool attachment and detachment by remote control, using hydraulic pressure.

Two interlocking features are provided to prevent the robot platform from tipping over during work operation. The first continuously calculates the center of gravity as the robot shifts orientation while working, and if the gravity center becomes in danger of deviating from the outriggers' support range, an alarm is displayed to warn the operator. The second feature continuously monitors the values read by the load sensors on the outriggers, and operation is automatically halted before the robot would otherwise leave the ground. Intermodular interfaces adopt simple connection systems for the various lines: power drive, communication, hydraulic, etc.

MHI intends to make open disclosure of all related information as a way of encouraging other companies to join in the ongoing project to develop robots of these kinds.

The power battery and recharging system incorporated into the robot platform are based on technologies, specially customized for the MARS-C, featured in Mitsubishi Motors Corporation's (MMC) i-MiEV electric vehicle. Use of a battery that simultaneously offers high reliability and a large capacity enables the robot, in spite of its 4-ton weight, to travel on 15° slopes and achieve a travel speed of 6 kilometers per hour (km/h) on flat surfaces. The battery enables continuous operation for 5 hours, even when the manipulator is being used at a height of 8m.