Gladding-Hearn Begins Rhode Island Ferry Build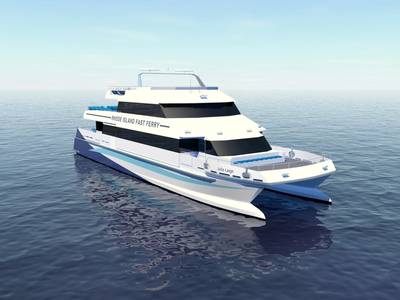 Massachusetts based shipbuilder Gladding-Hearn Shipbuilding, Duclos Corporation, said it has begun building a second high-speed passenger ferry for Rhode Island Fast Ferry, Inc., scheduled to be delivered in 2019.

The new 320-passenger, all-aluminum catamaran will operate on a new seasonal route between Quonset Point, R.I. and Block Island.

The newbuild follows the 2012 delivery of Ava Pearl, the operator's first high-speed catamaran built by the Somerset, Mass., shipyard, which provides passenger service to the island of Martha's Vineyard off of Cape Cod.

The vessel presently under construction measures 33.1m overall, 9.6m at the beam and draws 1.9m. It will be powered by twin MTU-12V4000M64 diesel engines, each delivering 1,875 Bhp at 1,800 rpm. The engines turn a pair of five-blade Ni-Br-Al propellers through ZF 5055 gearboxes. The ferry will be equipped with a pair of 55 kW generators and a VT/MDI hydraulic trim tab motion-control system. Top speed is to reach 29 knots.

The vessel features the designer's "S" bow hulls, which, according to the builder, have proved to provide excellent seakeeping, directional stability and a high tolerance to shifts in trim and displacement.

Entrance into the boat is through the port and starboard side doors. With more than twice the passenger capacity of the Ava Pearl, the new ferry's seating arrangement reflects a blend of both interior and exterior comfort during the summer season. Equipped throughout with Beurteaux seats and tables, the main cabin has generous seating for 142 passengers, a snack bar and four heads. A 180,000 Btu HVAC system will heat and cool the main cabin and wheelhouse on the second deck. The second deck features partially-protected outdoor seating for 124 passengers. The open third deck, with seating for 18 passengers, has ample standing room for additional passengers.

Space for luggage storage is on the fore and aft decks. The vessel is equipped with an interior and exterior public address system and a video entertainment system in the main cabin.