Globecomm Keeps Tall Ships Connected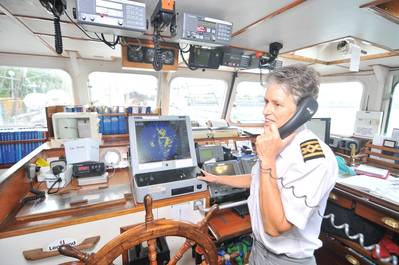 Iridium terminals and Wi-Fi hotspots installed for tall ship pair taking part in unique round the world voyage and Baltic summer racing.

Globecomm Maritime is supporting British charity, the Jubilee Sailing Trust, keeping its two tall ships STS Lord Nelson and STS Tenacious connected to friends and family during their ground-breaking itineraries.

Lord Nelson and Tenacious are the only vessels in the world specially modified to be accessible for disabled and able bodied sailors alike, the company said. Lord Nelson is the first vessel of its type to sail around the world while Tenacious is heading for the U.K. and then the Baltic Sea to take part in the international Tall Ship Race series over the summer.

To keep the ships connected while they are at sea, Globecomm partnered with Iridium to install OpenPort terminals on both vessels and equip them for Wi-Fi connectivity below decks.

Knowing that Lord Nelson was due to undertake a round the world voyage which included Antarctica, Iridium was the only viable option since it is the only satellite provider to cover entire globe from pole to pole, explains Globecomm Maritime Vice-president of Sales, Asia Pacific Trevor Whitworth.

In addition to the Iridium Pilot antennas and below decks units, Globecomm Maritime has supplied two crew phones and a master's phone along with a Wi-Fi access point.

Also installed on board is the se@COMM communication suite, which can be used to configure and control access as needed and Globecomm's Nimbus network security device. Engineering as well as guidance on installation, configuration, and 24x7 global support are included.

Lord Nelson's Captain, Barbara Campbell, said, "As we sail around the world on the Norton Rose Fulbright Sail the World Challenge, it is vital that we have reliable communications not only for safety and operational purposes, but also so that our voyage crew can share their life changing experiences with the outside world. Thanks to the Globecomm's generous support of the Jubilee Sailing Trust, both Lord Nelson and Tenacious can maintain ship-to-shore voice and data communication even in the most remote oceans with the Iridium system's pole to pole coverage."

The 55-meter square rigger Lord Nelson is taking part in the Norton Rose Fulbright Sail the World Challenge, a 50,000-mile journey designed to promote equality and inclusion in every port of call.

The voyage offers a unique opportunity for would-be sailors aged 16 and over. No previous experience is necessary and a 'buddy' system onboard pairs able-bodied and disabled crew to offer mutual help and support during the passage.

Spaces are available to sail on Lord Nelson on her first ever voyages around Australia, New Zealand and beyond. For more information on all the opportunities to sail on board Lord Nelson, email: info@jst.org.uk, visit www.jst.org.uk, or call +44 (0) 23 8042 6849 (U.K.) or +61 03 9981 3312 (Australia).