Grand Bahama Shipyard Reopens After COVID-19 Pause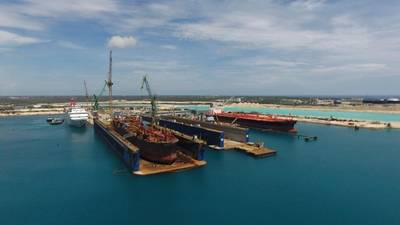 Ship repair yard Grand Bahama Shipyard Limited (GBSL) reports it has resumed its summer dry-docking program June 2, after a short period of lockdown as a result of COVID-19.
A spokesperson for the shipyard told MarineLink that the yard had no COVID-19 cases but was partially shut for portions of April and May due to government imposed travel restrictions on the island. The yard focused on fabrication jobs and local clients with no travel history outside of the Bahamas before reopening in full at the end of May.
The first vessels to arrive after the reopening were two Svitzer tugs, followed by the double docking of a 29,433 GT chemical tanker and a 1,097 GT landing craft. The yard says it has a number of projects underway or lined up, including but not limited to dock surveys, in-water surveys (IWS), major fabrication and emergency repairs. As of today, the yard has completed more than 20 repair projects since January 2020, including ballast water treatment system (BWTS) installations on three tankers and major refits on five cruise vessels.
The shipyard says it has implemented safe working practices to keep its customers and workforce safe.
David Skentelbery, CEO Grand Bahama Shipyard, says, "Our key priority is to provide a safe working environment for our workforce, subcontractors and our clients to operate among the new normal following the outbreak."
GBSL says it is preparing for a busy third and fourth quarter with repairs ranging from scrubber installation, extensive propulsion repairs, ballast water system installations, as well as routine class dockings across a range of different types of vessel.
The yard notes it has availability for both dockings and afloat repairs.