Greenpeace Arctic 30 Back Home for Christmas Soon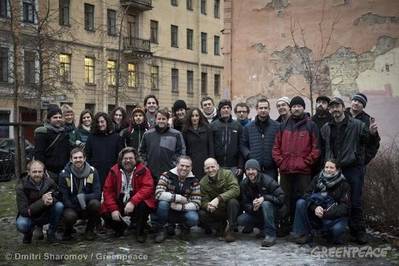 The Greenpeace activists who spent two months in jail after their protest in the Arctic have expressed relief after the Russian parliament voted to grant them amnesty. But they also bravely declared: "There is no amnesty for the Arctic."
The Russian parliament, the Duma, has voted for an amendment that extends an amnesty decree to defendants who have been charged with hooliganism. It therefore includes the Arctic 30 - the 28 activists and two freelance journalists who were arrested following a protest at a Gazprom-operated Arctic oil platform three month ago.

There will be a final vote in Moscow shortly: the only way the Arctic 30 would be removed from the amnesty is if the entire bill is rejected - an outcome regarded as extremely unlikely by Greenpeace.

Th legal proceedings against the Arctic 30 are now almost certain to come to an end and the 26 non-Russians will be free to return home to their families as soon as they are given exi visas by the Russian authorities.

The fate of the Greenpeace chartered protest vessel Arctic Sunrise, currently impounded in Murmansk, remains uncertain, despite the order of an international court that it be released following a case brought by the Dutch government.