Russian Court Rejects Plea to Release Greenpeace Ship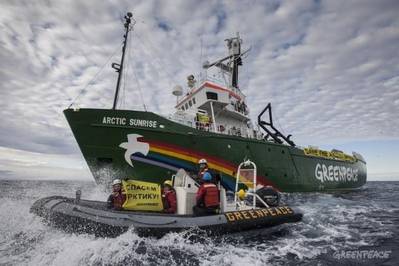 The Murmansk Regional Court has rejected an appeal against the arrest of the ship 'Arctic Sunrise' by Russian authorities reports Greenpeace.
"This is an extremely disappointing ruling. We believe this verdict is in violation of both the Russian Criminal Procedure Code and international law. Cassation procedures are now available under Russian law," said Gerrit-Jan Bolderman, Director of Stichting Phoenix, the ship's owner.

Besides the possibility of a further appeal at a cassation court by Stichting Phoenix, the lawyer representing Peter Willcox, the captain of the Arctic Sunrise who was granted bail by a St Petersburg court on Wednesday, will in the coming days file a petition seeking the release of the ship.

Background
On October 7, 2013, the Leninsky District Court of Murmansk issued an order imposing the arrest of the ship Arctic Sunrise, ruling that it was lawfully seized by the Federal Security Service on the basis of Article 19 of the 1958 Convention on the High Seas, which allows seizure of a pirate vessel outside territorial waters.

In a separate case relating to the seizure of the ship and the 'Arctic 30', the International Tribunal for the Law of the Sea (ITLOS) will announce its ruling on shortly in a case brought by the Netherlands seeking the immediate release and repatriation of the detainees, and the end of all legal proceedings against them.