Russia to Release Greenpeace Arctic Sunrise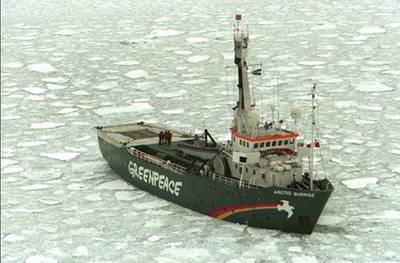 Russia's investigative committee (IC) this morning informed Greenpeace International that it has annulled the arrest of the ship Arctic Sunrise, which has remained in custody in Murmansk since performing a protest against Arctic oil drilling September 19, 2013.

According to Greenpeace, the investigative committee recently extended its investigation into the protest at the Prirazlomnaya platform by two months, until July 24. However, lawyers acting for Greenpeace International were informed of the ship's release during a meeting in the port city of Murmansk this morning. Greenpeace lawyers were also informed that the investigation will continue in order to examine equipment found on the ship.

Greenpeace has continued to campaign against Arctic oil drilling across the world in the eight months since the Arctic Sunrise was taken into custody, most recently last week in Norway where activists occupied a Statoil contracted oil rig in the Barents sea for over 48 hours. Meanwhile Dutch activists blocked a second Gazprom rig, the GSP Jupiter, as it left the Dutch port of IJmuiden to drill in the Russian Arctic.