Greenpeace Protest Ship Threatened, Leaves Kara Sea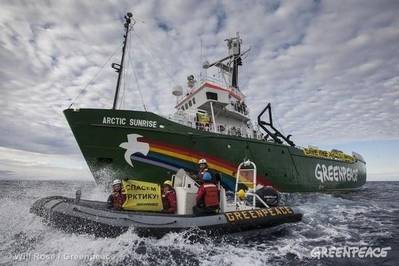 Having defied Russian refusal to grant the Greenpeace ship 'Arctic Sunrise' permission to enter the Kara Sea area on the Northern Sea Route, Russian coastguards boarded and threatened to open fire unless the protesters turned back. Selected entries from Dima Litvinov's onboard blogpost follow:
An oil spill here is practically inevitable – and a clean up virtually impossible. At risk is the fragile Arctic nature, the narwhals, polar bears, bowhead whales, walruses, seals, and dozens of bird species. At risk is also the planet – more oil, more carbon in the atmosphere, accelerated climate change.

Once a sleepy fishing town, Kirkenes is becoming one of the centers of the mad rush for Arctic oil as climate change and sea ice loss makes it possible to drill in the seas that were once off limits to the oil industry. From here the Arctic Sunrise sailed into the Barents Sea to bear witness to and protest against the oil industry's feverish activity in the Arctic.
... We then set course for the Kara Sea, which forms a part of the Northern Sea Route, a new sea highway from Europe to Asia that has now become navigable because of the retreating Arctic ice. But Russian authorities denied our ship the right to enter the Kara Sea on three occasions. This is despite the fact the ship is a high class icebreaker and of significant higher class than every ship the oil industry is using to prepare for offshore Arctic oil drilling in this area.

Defying the Russian refusal to grant the ship entry, the Sunrise entered the Kara Sea on Saturday, but as the Arctic Sunrise approached, it was intercepted by a Russian Coast Guard ship. The crew assured the Russians that we planned a peaceful and legal protest – and that we were outside of their legal jurisdiction – but the coast guard sent a boarding party to the Sunrise anyway.

Under threat that the coast guard could use force against the ship, including opening fire on the vessel, a decision was taken for the Arctic Sunrise to leave the Kara Sea. But news of our protest had already flown across the world, with stories appearing in Hungary through to Japan, to New Zealand, to South America and all the countries around the Arctic.

We will not be silenced. The public has the right to know about the threat that looms over the Arctic horizon and the names and faces of the companies that are taking that risk.