Greenpeace's 'Arctic 30' Arrive St. Petersburg, Russia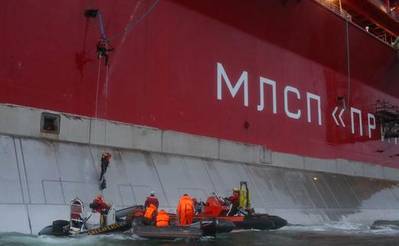 Greenpeace International confirms that the train carrying 30 men and women detained after a peaceful protest at a Gazprom Arctic oil platform has arrived in St Petersburg.
The Arctic 30 departed from Murmansk in a prison wagon early on Monday and upon arrival in St Petersburg the wagon was detached and moved 1km away from the station. The authorities moved the detainees to transportation buses, surrounded by many police.

It is not yet certain which SIZO (detention centre) in St Petersburg they are being taken to or whether the new facility will represent an improvement on conditions compared with their detention in Murmansk. The 28 Greenpeace International activists and two freelance journalists may also be spread out over different locations across St Petersburg. Greenpeace International has a legal team on standby in St Petersburg.

On November 24, the two-month detention period imposed on the Arctic 30 by the Leninsky District Court of Murmansk comes to an end. If Russia's Investigative Committee wishes to extend this period it must make an application to the relevant District Court in St. Petersburg no later than one week in advance (November 17).

Detention hearings would follow a few days after the application is made and they must be completed by November 24. If the authorities do apply for an extension of detention, Greenpeace International expects hearings could take place on a rolling basis during the week of November 17-24.

Greenpeace explains that the maximum period of detention that may be sought is four months, but the investigators can also request a shorter period initially. A team of lawyers to represent the Arctic 30 has already arrived in St. Petersburg, together with support staff.