Groundbreaking DC Bus System in New Ship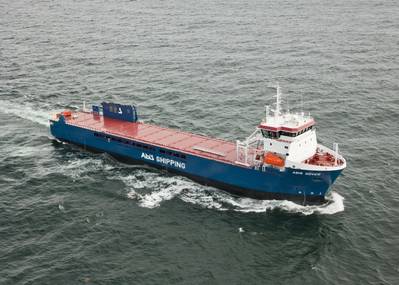 One of the first ships in the world to use a DC bus system for the main electrical installation recently entered service – the 'Abis Dover'.

Built by ShipKits shipyared in a project that included Vuyk Engineering Groningen, Alewijnse Marine Systems, all based in The Netherlands, and Finland's Vacon, the ship's upper cargo hold is a remarkable 80 m (262.5 ft) in length, almost 75% of the LOA of 107m (351ft), achieved by avoiding space-consuming propellor shafts and going for the diesel-electric propulsion option. Propulsion power comes from six Scania gensets, tucked away in space otherwise wasted, to drive steerable Z-drive thrusters.

Not content with that, the design team set themselves the task of overcoming the main disadvantage of conventional AC power, namely that all the generators have to run synchronously using complex control gear. Instead they developed an ingenious DC bus system for the main electrical installation, which brings various advantages for this type of vessel.

Advantages of DC Electrical Power
The main benefits are first that the gensets can run at different speeds at the same time, giving greater flexibility in choice of overall power outputs (hence making it possible to use less fuel) and second, since synchronisation is unnecessary, additional power can be applied very quickly as one or more additional units are brought on line. This latter is of significant advantage to Abis Dover where operations (say in delivering turbines offshore) demand both low-energy DP station-keeping and high-energy transit speeds.

The Harmonics Problem Solved
Alwijnse Marine Systems and Vacon worked together to overcome harmonic distortion problems. Vacon designed an AFE (Active Front End) AC/DC rectifier for the system that feeds into a 750 volt DC bus. This in turn feeds variable frequency AC/DC inverters which power the Z-drive thrusters and bow thrusters, all of which are AC motors, it having been thought best to use well-proved components in the system to ensure reliability and performance. The remaining pump, winches and other on-board motors are fed by either fixed or variable speed inverters depending on their design. A power management system designed and installed by Alewijnse, along with the rest of the ship's electrical system, ensures that the optimum number of generators deliver the required amount of current at any one time.

This multi-mission capable ship has been designed for world-wide trade as well as offshore operations, able to carry special cargo and bulk goods, as well as containers with lashing arrangements on the main deck hatches and the tank-top. Open hatch operation is also possible for the stowage of extremely large units. The Abis Dover is the second of these VG6000 designs by Vuyk Engineering Groningen BV to be launched from the SK Shipyard in Groningen, The Netherlands, for owners Abis Shipping.