Vintage Gyrocompass Donated by Northrop Grumman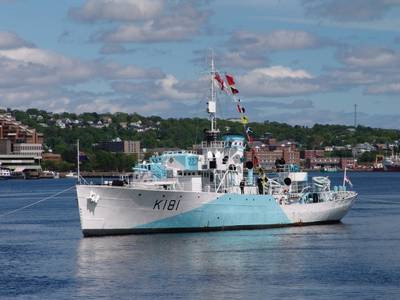 Northrop Grumman donate a Sperry Mk 14 gyrocompass & leather-bound operator's manual to HMCS Sackville Canadian Naval Memorial Trust.

The vinatage gyro compass is for installation aboard the restored HMCS Sackville, a World War II-era corvette on the Halifax waterfront.

The donation was presented at the Canadian Defence Security and Aerospace Exhibition Atlantic (DEFSEC) 2012, held annually in Halifax. The Sackville was moored alongside the Cunard Center, the home of DEFSEC, throughout the exhibition.

Northrop Grumman's Sperry Marine business unit produced the Sperry Mk 14 from 1934 until the mid-1950s, and it was the most widely manufactured gyrocompass of World War II, used by several allied navies. An Mk 14 was installed aboard the Sackville during its retrofit in Galveston, Texas, in 1944, and played a vital role in greatly increasing the antisubmarine capability of the Sackville and other Canadian naval vessels, as well. Sperry Marine has been providing marine and navigation systems in Canada since the 1930s.

The donated Mk 14 was found in storage at Georgian College in Owen Sound, Ontario, after a nearly two-year search. Capt. Peter Buell, director of the Great Lakes International Marine Training Center at Georgian College, was instrumental in arranging for the donation. Sperry Marine handled the transportation to Halifax and will assist the trust in installing the Mk 14 aboard the Sackville at a later date.

Sperry Marine is a business unit of Northrop Grumman's Naval and Marine Systems division, headquartered in New Malden, U.K., with major engineering and support offices both in New Malden and in Hamburg, Germany.