HamiltonJet Launches HT810 Model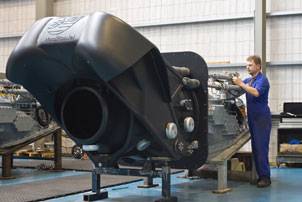 HamiltonJet Technical Manager Phil Rae said the company's designers learned a lot from the HT1000 project, using this knowledge to refine the HT810 to make it easier to both manufacture and service in the field.

"Through the development of the HT series we have been able to advance several new features of our waterjets, including one-piece casting of large impellers, compact and efficient reverse duct designs and improved servicing features" said Rae. "Many of these design elements are now flowing down to our other waterjet models."

Not only does the HT810 mixed flow pump offer both improved efficiency and cavitation performance, with its new reverse duct design it has a reduced transom footprint for a jet of its size, enabling reduced jet centers required in narrow hulls or multi-jet installations. The HT810 is also supplied with a factory-built transition duct, eliminating the requirement for this to be fabricated by the boat builder and ensuring accurate geometry for the intake flow. As with all HamiltonJet waterjets, thrust forces are transferred to the transition duct and hull bottom rather than the transom, reducing the requirement for additional transom strengthening.

The HT810 also continues the long tradition of HamiltonJet innovation through several new design features. One such feature is a new arrangement for the positioning and attachment of sacrificial anodes to prevent corrosion. Utilising a cartridge system all main internal anodes are able to be inspected and replaced without having to disassemble the jet unit. This simplifies maintenance of the waterjet and reduces vessel downtime. Another new feature is the integrated tailpipe and steering nozzle housing, eliminating a bolted flange and reducing the overall length of the jet. The transom flange utilizes a compression seal that simplifies installation alignment and sealing.

The first pair of HT810s will be installed in a 34m vessel in Taiwan, powered by MTU 16V4000 M90 engines and be capable of over 30 knots.

HamiltonJet is also nearing completion of the HT model range with the first HT900 waterjets currently being manufactured. These are scheduled to be assembled in June and shipped to the Gulf of Mexico for a new crewboat project.