Hartzell Welcomes Ohio Governor to New Factory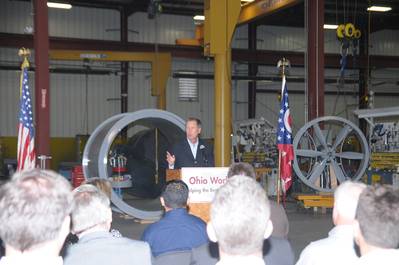 Hartzell Air Movement was honored to have Ohio Governor John Kasich at their new large fan facility to celebrate the successful first year of the Ohio Incumbent Workforce Training Voucher Program and to kick off the second year of the program. In other company news Brian Payne has joined Hartzell as Vice President of International Sales.

The Governor spoke of the importance of the OIWTVP and urged other businesses to get involved. He also met with the leaders of the Hartzell family companies to discuss other small business issues.

President of Hartzell Air Movement, Sean Steimle said at the event, "...in order for a business to remain competitive, their employees need to have the proper training and education." Hartzell participated in this voucher program by supplying some of their employees with Lean training, Solid Works training, and other various computer training.
Appointment of Brian Payne
Payne has been a consultant to Hartzell since July of 2011 focused on international market penetration. He has also been instrumental in executing market plans in wastewater and marine segments.

Company president Sean Steimle said "Brian offers Hartzell Air Movement the experience and skills needed for the development and expansion of international business."

Prior to his new position, he worked at Harney Management Partners as a business advisory consultant specializing in sales, marketing, and operational management.

Hartzell Air Movement is a leading manufacturer of industrial air moving solutions to a variety of markets throughout the world. The company manufactures in Ohio, Indiana, and Singapore. Hartzell has been in business since 1875.
www.hartzellairmovement.com

Brian Payne