Havfram Secures Loan for Offshore Wind Vessel Construction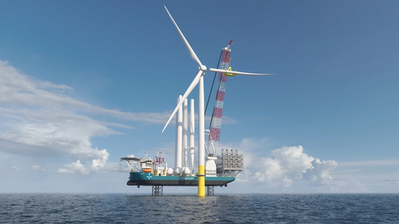 Offshore wind installation company Havfram has signed a Senior Secured Green ECA Term Loan Facility to fund its two wind turbine installation vessels ("WTIVs"), currently under construction at CIMC Raffles in China.
The Facility was entered into with a syndicate led by DNB Bank ASA (Coordinator, Bookrunner, Green Loan Advisor and Agent) with SpareBank 1 SR-Bank ASA, Credit Agricole, Sparebanken Vest and Rabobank as Mandated Lead Arrangers and with Export Finance Norway as ECA lender. The Facility is also partly supported by an insurance provided by Atradius Dutch State Business N.V, the ECA of the Netherlands.
Bjørn Kristian Røed, CFO at Havfram stated: "We are pleased to secure financing for our two state-of-the-art wind turbine installation Vessels.This facility, alongside the equity provided by our sponsors Sandbrook and PSP Investments, fully funds Havfram's newbuilding program with the support of leading maritime lenders and export credit agencies.
Access and cooperation between equity and debt capital providers are key to success in providing the world with renewable energy. This facility is a shining example to this collaboration and supports our work to harvest clean energy from offshore wind."
---