Somali Pirates Fire on U.S. Navy Helicopter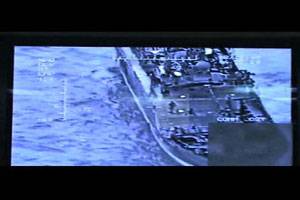 At approximately 8:00 a.m. local time, Aug. 26, Somali Pirates aboard Motor Vessel (M/V) Win Far, fired what appeared to be a large caliber weapon at a U.S. Navy SH-60B Helicopter from Helicopter Anti-Submarine Squadron Light (HSL) 49, embarked aboard USS Chancellorsville (CG 62).

No rounds of ammunition struck the SH-60B. The SH-60 crew did not return fire. No personnel injuries resulted from the incident.

Win Far is a Taiwanese-flagged vessel that was pirated April 6. During the past 135 days it has been used as a mother ship to conduct other known pirate attacks, most notably the U.S. flagged Maersk-Alabama in April.

The helicopter was conducting a routine surveillance flight of M/V Win Far currently held at anchorage by Somali pirates south of Garacad, Somalia, when the incident occurred.

During the flight, aircrew observed activity but could not ascertain they were fired upon until their return to Chancellorsville and review of Forward Looking Infrared Radar (FLIR) video, which recorded the incident. The helicopter was approximately 3,000 yards from Win Far when it was fired upon.

More than 30 crewmembers remain as hostages aboard the pirated vessel M/V Win Far.