US Navy's LPD 25 to be Named for 9/11 Heroes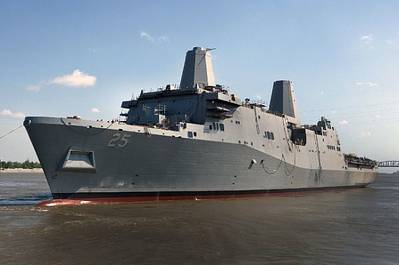 The Navy will christen the newest amphibious transport dock ship, 'Somerset' at HHI shipyard in Avondale, La.
The ship is named in honor of the courageous passengers and crew of United Airlines Flight 93. Their actions prevented terrorist hijackers from reaching their destination only to have the airplane crash near Shanksville in Somerset County, Pa., Sept. 11, 2001.
During the weeks following the Flight 93 crash, recovery personnel retrieved more than 95 percent of the airplane's wreckage from the crash site. An American flag was hoisted on the top of a power shovel or "dragline" on a hill dominating the area.
The dragline had been used in coal stripping at one time, and the equipment with the flag became a symbol of the effort. 

In the summer of 2008, steel from the dragline's bucket was melted down and cast into Somerset's bow stem. Somerset is the final of three ships named to honor heroes of the September 11 attacks, joining the USS New York and USS Arlington, respectively.

Designated LPD 25, Somerset is the ninth amphibious transport dock ship in the San Antonio class. These versatile ships incorporate both a flight deck to accommodate CH-46 helicopters and MV-22 Osprey tilt-rotor aircraft, and a well deck that can launch and recover landing craft and amphibious vehicles.