Robert Allan Highlight Sanmar's Bogacay Series Tugboats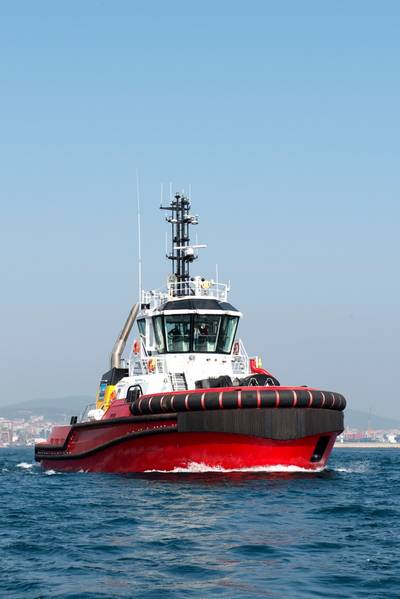 So far two Boğaçay series RAmparts 2400SX tugs have been delivered. The 'Bogacay I' was delivered to new owners Gemport in Turkey and renamed Zeycan Y. The second hull of the series, 'Bogacay II' has entered into service in Sanmar's fleet.

In late 2011, Sanmar A.S. contracted with Robert Allan Ltd., Naval Architects of Vancouver, B.C., Canada to provide a design for a new tug series to add to Sanmar's expanding product portfolio. The design is called the RAmparts 2400SX and is a customized version of Robert Allan Ltd.'s RAmparts 2500W design, but updated for Sanmar's production and marketing objectives.
The hull is essentially the same as the RAmparts 2500W hull first introduced for Italian operator Rimorchiatori Riuniti, featuring standard RAmparts class characteristics including good dead rise for improved thruster performance, modest side flare, a half-raised forecastle deck for good sea keeping, gently rounded deck line in plan to ensure that the tug can safely and easily come alongside and remove itself from an attended ship at speed.

Most importantly the tugs retain the characteristic conically shaped double chined stern unique to all Robert Allan Ltd. designs which ensures that the tug can run astern at high speeds and maintain good control and directional stability. The hull is under the 24m rule length for load line and tonnage conventions.
Beyond the hull, the remainder of the tug was customized to suit Sanmar's requirements for flexibility in available options and for production efficiency. And indeed Sanmar had some unique and challenging requirements for the design team on this project, amongst them for example, the abitlity to install 3 different Z-drive sizes to achieve 50 tonne, 60 tonne, and 70 tonne bollard pull versions of the tug (all while keeping the same shaft line and same diameter drive well).