Great Lakes Shipyard Highlights Recent Expansion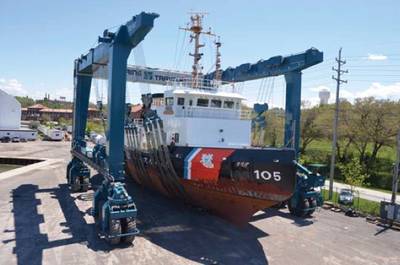 The Shipyard Expansion Project is a 4-PHASE project. PHASES I through III have now been completed with the installation of the Travelift at a total cost to date of US$11.345-million.
Background
Great Lakes Shipyard, a division of The Great Lakes Towing Company, operates a full-service shipyard with a 770-ton Travelift and a drydock in Cleveland which specializes in all types of marine construction and repairs for vessels, tugs, supply boats, ferries, barges, excursion vessels, dinner boats, research vessels, large yachts, and off-site topside work of every kind. The Company and its Shipyard are "small businesses." Located on a former underutilized "superfund" site in Wards 3 and 15, both are federally- designated HUB Zones in inner-city Cleveland with continuing high unemployment and under employment.
A recent Shipyard Expansion Project was envisaged to take advantage of Cleveland's central location on the Great Lakes; its great port and river; opportunities to expand a skilled manpower pool utilizing local schools and colleges; availability of underdeveloped and under-utilized land; and a conviction that by utilizing advanced technology, it was possible to diversify and meet the competitive manufacturing challenges of the next century. Further, Great Lakes Shipyard found cooperative and encouraging Cleveland-Cuyahoga County Port Authority, State, County and City governments, and the U.S. Maritime Administration for its optimistic plan.

Expansion program phases 1 through 3 included:
• Land acquisition (now totaling 7.26 acres with a potential additional 8.97 acres under environmental evaluation and contract totaling 16.23 acres)
• Environmental land remediation (from a former Superfund site) • Bulkheading (1,776 lineal feet)
• Ground stabilization • Construction of a new headquarters building (7,768 square feet)
• Construction of a new indoor state-of-the-art shipyard facility (10,917 square feet)
• Construction of a concrete reinforced slip
• Acquisition and installation of the 770-ton Travelift
• Construction of a new 68 foot-high temporary Shipyard facility (10,500 square feet)