Higman Marine Grows: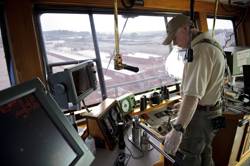 Innovation and New Building are Key Movers for this Gulf Coast Bulk Transportation Provider.
Fleet And Staff Have Doubled In Ten Years

Gordie Keenan, Higman's vice president of training told MarineNews in January, "We have 54 inland towboats, the majority of which are rated at 2,000 horse power, and 116 inland tank barges. Today our vessels are bigger with more horsepower, pushing more barrels, than ten years ago." The company carries a myriad of crude oils and refined products for its clients on a fleet of barges and inland towboats that has doubled in number over the last ten years. Today, Higman has a workforce of 415 employees, also nearly twice what it was a decade ago.
Higman Marine: By the Numbers

Founded: 1917

Barges (today / 2002): 116 / 59

Inland tow boats (today / 2002): 54 / 28

Bulk Commodities Carried: crude oil, condensate, # 6 fuel oil, natural gasoline, xylene, para xylene, benzene, gasolines, naphtha, raffinate, reformate, diesels, jets fuel and others.

Total Mariners (today / 2002): 356 / 162

Total Employees (today / 2002): 415 / 201

Offices (5): Houston, Channelview, Orange, Covington, Mobile, AL

Earnings: Proprietary

Source: Higman Marine
Most of Higman's barge fleet is comprised of double-hull tank barges, equipped with vapor control and pollution systems, to meet requirements of the Oil Pollution Act of 1990--passed by Congress after the Exxon Valdez accident--and to meet the 1970 Clean Air Act.

Higman's operating territory is vast. "Our business occurs mainly on the Gulf Intracoastal Waterway from Brownsville, Texas to Panama City, Fla. and up the Mississippi River from the Gulf to Chicago, along the Illinois River," explains Keenan. Higman operates on the Mississippi River system, including the Arkansas, Illinois, Missouri, Ohio, Tennessee, Black Warrior Rivers and the Tennessee-Tombigbee Waterway. "We do a lot of business around Houston, Texas City, Lake Charles, New Orleans, and Decatur, Alabama," he said, adding, "All our boats and barges are operated as dedicated tows, which keeps each boat always assigned to the same barge." Unspoken in all of that is the increased safety metric that comes of good familiarization with every aspect of the firm's diverse and far flung equipment base.
Company Adapts To New Regulations, Customer Needs And Technology

In the last decade, and as the regulatory noose has tightened, Keenan says that Higman has developed systematic processes to ensure that all of its equipment and personnel are in compliance. Areas requiring adjustment, he said, include the addition of the federal TWIC program and the U.S. Coast Guard's proposed Subchapter M rules. He predicted that based on legwork the company has done so far, the transition to Subchapter M won't be a problem.
Subchapter M: Still more inland inspection requirements

Higman's clientele can be demanding and exacting. "Our customers scrutinize how we do our business," Keenan said. "They look at our barges, tows and equipment more than the Coast Guard does to make sure it's up to their standards. They're interested in our training program." In the last decade, greater oversight by customers has been one of the company's biggest challenges. That said; oil company BP has awarded Higman its "Suppliers of the Year" award on more than one occasion. The honor signifies outstanding achievement and overall performance. At the same time, Higman continues to improve its operations.

"We began developing our own software in 1999 to manage our fleet," Keenan said. "It's a continuous process as we define and redefine the needs of our business. We have a full-time programmer who built and tailored our software for us." Crew members from the newest deck hand all the way up to seasoned towboat pilots use the in-house software. "At first it was a challenge, but people quickly caught on," Keenan said. "The young fellows were already adept at computers and laptops, and that helped. In the last five years, safety reports, payroll, grocery orders, most of our paperwork and the majority of our training are done on line."

Other changes have occurred, too. "Wheelhouses on today's inland boats are much more electronic and sophisticated, with a lot more equipment, than in past," Keenan said. "You have more options to safely navigate vessels now. The radar's still there but we now have integrated navigation and new communication systems. And our engines are much more fuel-efficient than ten years ago. We have the most fuel-efficient engines we can buy."
Advancement Opportunities: Key to Recruitment and Retention

Bucking an industry trend, finding labor hasn't been a problem for Higman in recent years. Keen explains why: "We get a lot of referrals, particularly from our employees." He adds, "We don't do much outside recruiting. A lot of people come to us and are knocking on our door, so we can be pretty selective."

Higman trains and nurtures its staff. "We hire entry-level workers, train them, and within years folks are able to move up to the wheelhouse," Keenan said. "We hired 14 new deckhands in December and several of them were just out of high school. They're very enthusiastic, excited and ready to work. It's fun to have them in. They're between 18 and 24, and it's an opportunity for them." He said in ten years they could be pilots, making a good salary.
The results of that approach have been rewarding. "We've had little turnover in our staff, and of course our long-term employees know how to work our equipment," he said. Higman rewards employees with bonuses and longevity pay after six month of service. And throughout the year, the company offers seminars for tankermen and wheelmen and in advanced wheelhouse management, advanced pilothouse management and leadership. The company's in-house newsletter, The Tow Line keeps employees informed about promotions, new vessels, safety, health and maritime history.
Acquisitions And New Builds: Modernizing and Increasing the Fleet

Higman Towing was founded in 1917 by Orange, TX pharmacist J. W. Higman and partner Louis Smaihall , originally carried logs on the Sabine River to a local lumber mill and move water to spots in Louisiana. The firm started with two small tugs and three barges, and then shifted its focus as demand for crude oil and petroleum products grew. In 1953, Higman bought the former Pan American Refining Co.'s marine fleet, comprised of three boats and ten barges.

From the 1960s to 1990s, Higman modernized its fleet, periodically adding new boats and barges. In 1992, the company celebrated its 75th anniversary by christening the industry's first crude oil tows built to comply with the Oil Pollution Act of 1990. In 1997, Higman again expanded, acquiring Maryland Marine Inc., growing the fleet by 40 percent in the process.

In recent years, the firm has continued building boats and barges, and has opted for increased horsepower and barge capacity. Notable newcomers to the company's towboat fleet include the M/V Orange and the M/V San Antonio--both ceremoniously blessed last November. M/V Orange was delivered in early November by Dulac, La.-based Hope Services, which has built over three dozen vessels for Higman. And the M/V San Antonio was delivered at about the same time by Southwest Shipyard in Texas. The M/V San Bernard, constructed by Southwest Shipyards, began service last September.
Higman Today: a model for tomorrow

Earnings of privately-owned Higman Marine are proprietary. George H. Thomas is president and director of the company. All of the company's vessels are U.S. flagged. Keenan neatly sums up the firm's approach to its activities. "Our core business is focused on our customers, and we try to tailor our equipment and services to them," he said. "We don't want to be all things to all people, but instead focus on our service area, trying to be the best at it." To that end, Higman remains committed to giving its customers environmentally safe, efficient water transportation. As one the oldest U.S. inland marine companies, it nevertheless has one of its newest fleets of pushboats and tank barges in the business. In today's highly regulated and financially uncertain market conditions, privately-held Higman therefore remains a model for both small and large operators. What's not to like?

This article was taken from the February print edition of MarineNews magazine.
Susan Buchanan is a New Orleans-based business writer, specializing in energy, maritime matters, agriculture, the environment and construction. She holds a master's degree from Cornell University in agricultural economics and an undergraduate degree from the University of Pennsylvania.