Historic Yacht Club Awards Contract to GAC Pindar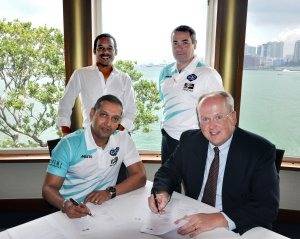 GAC Pindar is appointed official shipping and logistics services provider to the Royal Hong Kong Yacht Club.
The contract is to run from July 2012 through to December 2015.
The Royal Hong Kong Yacht Club will host a number of international sailing regattas over the next couple of years, including the World Sailing Championships for the Flying Fifteens and Etchells classes in 2013 and 2015.
Under the agreement, GAC Pindar will provide a full range of operational capabilities to manage the movement and transportation of yachts for those competing in events at the Club, as well as general marine leisure craft of its members. GAC Pindar will also play a significant role in several other major regattas, including the Rolex China Sea Race.

Mark Bovaird, Royal Hong Kong Yacht Club General Manager, says: "We have been aiming to partner with a reputable shipping/logistics company for some time, given our desire to increase the number of overseas entries in our major events. The addition of the World Sailing Championships to our calendar of events in 2013 and 2015 heightened the need for such an alliance and we are very happy to have come to this agreement with GAC Pindar.