This Day In Naval History: March 30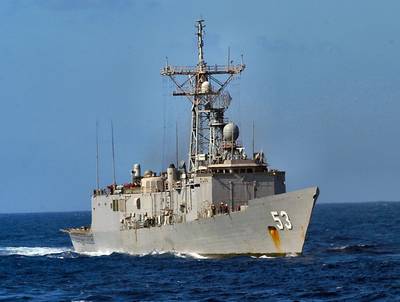 1944 - Task Force 58 begins bombing of Japanese airfields, shipping, fleet servicing facilities, and other installations at Palau, Yap, Ulithi, and Woleai in the Carolines.

1944 - USS Darter (SS 227) sinks a Japanese army cargo ship near New Guinea, despite the presence of an escort vessel. Also on this date, USS Picuda (SS 382) attacks a Japanese convoy and sinks a transport ship near Guam while USS Stingray (SS 186) sinks a transport ship near Saipan.

1953 - During the Korean War, five enemy guns in the Wonsan area fire about 20 rounds at USS Prichett (DD 561), falling about 150 yards short. Prichett silences the enemy guns with counterbattery fire.

1973 - USS Forrestal (CVA 59) and Sixth Fleet ships provided aid to Tunisia following a disastrous flood, relocating 729 persons, 27 tons of cargo and an entire herd of 227 sheep.

1991 - USS Princeton (CG-59) and crew are awarded the Combat Action Ribbon in recognition of the superior and arduous work the crew put in to keep the ship in war-fighting status following the Feb. 18 mining of the ship where three crew members were injured and the ships propeller was damaged during Operation Desert Storm.

1994 - USS Curtis Wilbur (DDG 54) is commissioned at Long Beach, Calif., where then-Secretary of the Navy John H. Dalton was the keynote speaker. The Arleigh Burke guided-missile destroyer is currently homeported in Yokosuka, Japan.

2007 - USS Hawes (FFG 53) provides medical assistance to Liberian cargo vessel MV Harmony while conducting Maritime Security Operations (MSO) in the southern Persian Gulf.
(Source: Naval History and Heritage Command, Communication and Outreach Division)