SAFE Boats Bags Homeland Security Order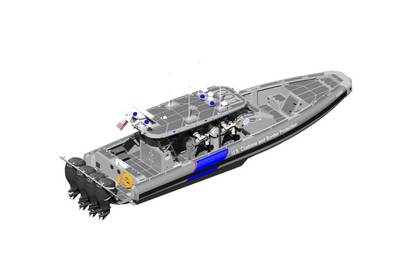 Production of Customs and Border Protection's coastal interceptor vessels to commence immediately
SAFE Boats International informs it has been awarded a contract from U.S. Department of Homeland Security, Customs and Border Protection (CBP) to build up to 52 coastal interceptor vessels (CIV). Should all options be executed, the contract value would exceed $48 million.
Bremerton, Wash. Based manufacturer of aluminum vessels SAFE Boats describes its CIV as a 41-foot rugged and maneuverable vessel, capable of high speed interceptions and ultra-tight turns in close proximity to other vessels as well as open ocean speeds over 54 knots. The CIV can be configured for a number of mission operations including pursuing suspect vessels for the purpose of boarding, searching and, when necessary, arresting violators, seizing the suspect vessel and contraband. SAFE Boats CIV is specifically configured to provide CBP Marine Interdiction Agents a safe working platform with outstanding performance, sea keeping and mission capabilities, the builder said.
SAFE Boats CIV is a variant of the SAFE 41 Center Console—Offshore, a commercially available interceptor design currently in service with the Royal Bahamian Police,
Colombian Navy
and a number of private owners.
"We are gratified to be selected and entrusted with this program by the Department of Homeland Security Customs and Border Protection," commented Dennis Morris, SAFE Boats president and CEO. "We understand how critical their mission is and believe that the SAFE Boats CIV will ensure effective mission execution for years to come."
With the CIV award, SAFE Boats is now delivering for three major U.S. federal programs including the U.S. Coast Guard Over-the-Horizon (OTH) and the U.S. Navy Mk VI high speed patrol boat.