New Laker Homeward Bound from China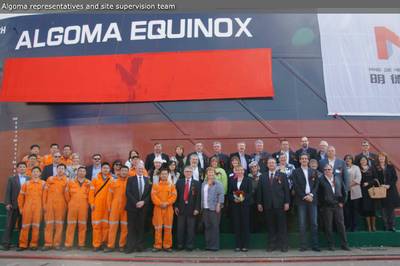 Algoma Central Corporation's 'Algoma Equinox', the first in a series of eight Equinox-class ships, has set sail from the Nantong Mingde Heavy Industries shipyard in Nantong, China bound for Canada.
The series consists of four gearless bulk carriers and four self-unloading bulk carriers. Algoma will own six of the series, consisting of two gearless bulkers and four self-unloading vessels. CWB Inc., formerly the Canadian Wheat Board, will own the other two gearless bulkers, which will be operated and managed by Algoma.

"Today, 20 Algoma crew members pushed away from the Nantong dock and began the long journey home," said Greg Wight, Algoma President and CEO. "The journey is expected to take eight weeks, during which time the crew will put the new ship through her paces. I know I speak for everyone from Algoma when I say that I look forward to seeing the Algoma Equinox and the crew arrive back in Canada in mid-November."

The Equinox Class represents the next generation of Great Lakes - St. Lawrence Waterway bulk cargo vessels. Algoma's $300 million investment in six Equinox Class vessels demonstrates the Corporation's commitment to operating in a sustainable manner. The ships have been designed to optimize fuel efficiency and operating performance thus minimizing environmental impact.

A 45% improvement in energy efficiency over Algoma's current fleet average is expected, resulting from the use of a modern Tier II compliant engine, increased cargo capacity, and improved hull form. In addition, a fully integrated IMO approved exhaust gas scrubber will remove 97% of all sulphur oxides from shipboard emissions. The use of exhaust gas scrubbers represents the first application of an IMO approved integrated scrubber on a Great Lakes - St. Lawrence vessel class.