Hornblower's Captain Goben Named "Maritime Person of the Year"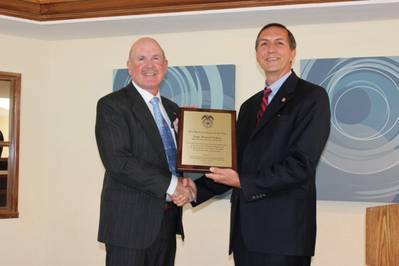 The International Propeller Club honors Captain Goben in recognition for his service to the maritime industry

Captain Richard Goben, Port Captain of Hornblower Cruises & Events in San Diego, received an international maritime award at the 87th Annual Convention and Maritime Industry Conference in Arlington, Virginia in October. International Propeller Club of the United States honored Captain Goben as the 2013 Maritime Person of the Year. The Propeller Club was formed in 1927 in order to support shipping and the maritime industry. Goben was given this honor "in recognition of service as an ambassador on behalf of the maritime industry and in gratitude for tireless advocacy for maritime safety and security."

Captain Goben is a licensed ship Master and has worked in the San Diego cruise industry as the Port Captain for Hornblower Cruises and Events for over 25 years, as well as serves on the board of the San Diego Port of the Propeller Club. Goben also volunteers as Captain of the oldest iron hulled sailing ship in the world, the "Star of India," built in 1863. Most recently the Star of India celebrated her 150th Birthday with three historic days of sailing with Captain Richard at the helm.

Goben's past awards include the "Roger Murphy National Safety Award" from the Passenger Vessel Association, the "Outstanding Leadership Award" from the Naval Order of the United States, and the "Creative Innovation in Sailing Programming" award from US Sailing. Captain Richard is also a past recipient of Hotel Sales & Marketing Association International Gold Key Award.