HSH Nordbank Aims to Buy Shipping Loans from Other Banks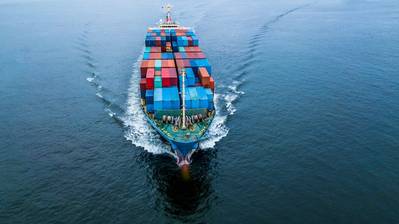 Germany's HSH Nordbank, once the world's biggest ship financier, aims to buy shipping loans from other banks and make new investments in the industry as it emerges from years of turmoil, a top bank official said.

The bank's regional government owners are selling the lender to buyout groups Cerberus Capital Management and J.C. Flowers, with investors GoldenTree, Centaurus Capital and Austrian bank BAWAG also taking stakes.

"HSH, at the end of this process of privatization, will for the first time since 2008 be restored. We will not have the same restrictions we faced or the pressures to reduce bad debt," Christian Nieswandt, global head of shipping with HSH Nordbank, told Reuters.

"We are looking to re-invest in the shipping space and are looking for high-quality business," he said, adding the bank had an annual budget of 700 million euros until 2022 to invest in new shipping business, including buying loans from other banks.

This is the first time HSH is looking at purchasing shipping loans.

"We will not buy non-performing portfolios. We are only looking at performing loans. We are talking to a couple of European banks, which have expressly stated that they want to get rid of parts of their portfolio," he said.

"This is a good way of developing the bank's shipping portfolio. I have never experienced a period during which so many quality portfolios were for sale."

Segments of the shipping industry, which transports 90 percent of the world's goods including oil, food and industrial products such as coal and iron ore, are coming out of a near-decade long slump with players looking for opportunities.

Finance sources familiar with the matter said HSH was looking at potentially acquiring shipping loans from banks such as Germany's Commerzbank and Deutsche Bank, and could spend up to 100 million euros a year in the period until 2022 on such loan purchases.

HSH, Deutsche Bank and Commerzbank declined to comment.

Commerzbank, whose shipping exposure stood at 1.8 billion euros at the end of March 2018, has previously said it would exit shipping financing.

Deutsche Bank has been looking to shrink its exposure to shipping and other maritime lending, such as port facilities. At the end of March, its exposure to the overall sector stood at 4.1 billion euros, of which 3.3 billion euros were for vessel financing.

One of HSH's future owners Cerberus also holds a 3 percent stake in Deutsche Bank and 5 percent of Commerzbank.

Other banks have also been trimming their ship finance business, including Germany's NordLB.

Learning Lessons
HSH became the world's top lender to the shipping industry at height of a sector boom in the 2000s. But it needed two state rescues after the downturn caused by over ordering of ships and global economic turmoil in 2008.

Hamburg and Schleswig-Holstein bailed out HSH with 3 billion euros in equity and a 10 billion-euro guarantee in 2009. The guarantee was cut to 7 billion euros in 2011, but HSH asked for it to be returned to the original level in 2013.

"It is our ambition to invest in performing loans of target customers of HSH Nordbank. Since we know the relevant borrowers, we can create a win-win situation since in many cases the selling bank needs the consent of the customer to sell the transaction," Nieswandt said.

"We have a shipping loan portfolio of roughly 5.5 billion euros and we feel comfortable with this size. This represents roughly 10 percent of the total assets of the bank which is a healthy ratio."

He said HSH wanted to stay in shipping finance, but not to the "same extent as in the past". "We have learned a lot of lessons," Nieswandt added.

HSH posted a pre-tax loss in 2017 of 453 million euros versus pre-tax net income of 121 million euros in 2016 after being hit by non-performing loans especially in shipping.

The completion of HSH's sale will coincide with the sale to a special purpose vehicle of 6.3 billion euros of non-performing loans from the non-core bank, which will include 4.3 billion euros of toxic shipping loans.

"The conditions in the shipping market are now pointing to a level of recovery, which will also help us to grow," Nieswandt said. "It is my expectation that our international (shipping) business will become more and more important, because in Germany there aren't that many bankable transactions."

HSH's public owners are aiming to close the privatization, which still needs approval from the European Central Bank and the European Commission, in coming months.

"The new bank will be less complex and smaller with a size of roughly 55 billion euros in total assets. The NPL (non-performing loan) exposure of the new bank will be around 2 percent of that," Nieswandt said.
(Additional reporting by Arno Schuetze in Frankfurt Editing by Edmund Blair)