Huelva, Enagás Launch Cold Logistics Hub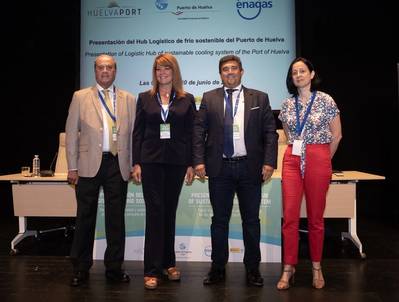 Port Authority of Huelva (APH) and Enagás, in collaboration with HuelvaPort, presented the Sustainable Cold Logistics Hub, a project that will be launched in the South Quay of the Port of Huelva through the awarding of the corresponding tender for the construction of cold stores by companies interested in participating.

"The logistics centre will enhance the competitiveness of the South Quay and its intermodal terminal, providing infrastructures prepared for the booming market of temperature-controlled goods in an extremely well-positioned port," said a press release from the Spanish port.

On the other hand, given the growth that container transport is experiencing and the commitment being made to diversify its traffic, the start-up of these facilities will complement the services offered by the port of Huelva.

In addition, this project involves using a novel refrigeration system, thanks to the use of the residual cold produced in the regasification process of Enagás' liquefied natural gas (LNG) plant. The cold will be transported through pipes to the aforementioned refrigeration facilities, achieving savings of up to 50% in energy costs.

The presentation was given as part of a conference held today in the engine sheds centre at the port (Las Cocheras) and was organized by the three entities.

During the opening of the conference, the president of the Port Authority of Huelva, Pilar Miranda, stressed that "this is an opportunity to continue growing by providing quality services that have been adapted to market demands, to generate business opportunities and employment, not only in Huelva, but in all its sphere of influence, with a sustainable, innovative and very attractive project for the refrigerated goods market". She also highlighted the novelty of this sustainable refrigeration system, "as an example of public-private collaboration".

On behalf of Enagás, its Asset Management Director, Rosa Nieto, was present and said that "the company is committed to the ecological transition and, for years, has been working on various projects that improve the energy efficiency of LNG plants, reduce energy consumption and take advantage of the residual energy of the processes, including the cooling from liquefied natural gas".

In this regard, Nieto explained that "Enagás is carrying out energy efficiency projects that allow the carbon footprint to be reduced, such as power generation, the supply of ecological cooling for other industries and other renewable gas initiatives such as the so-called 'Shaky Project' that uses the leftover cold from LNG for industrial refrigeration uses".