Hybrid-manned USS Ponce Arrives Bahrain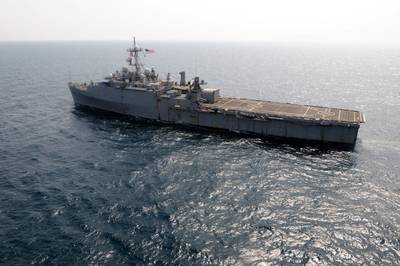 A mixed crew of civilian mariners & naval personnel man 'USS Ponce', the Navy's first dedicated forward staging-base ship
The U.S. Navy's first afloat forward staging base-interim, USS Ponce (AFSB-I), has arrived in Bahrain for duty in the U.S. 5th Fleet area of responsibility (AOR).
USS Ponce's primary mission is to support mine countermeasures (MCM) operations and other missions, such as the ability to provide repair service to other deployed units, including electrical, diesel engine, piping, and machinery repairs. Additionally, Ponce also has the capability to embark and launch small riverine craft.

Commanded by a U.S. Navy captain, Ponce will remain a U.S. Navy ship. The newly classed AFSB will be manned by a "hybrid" crew consisting of approximately 150 Military Sealift Command (MSC) civilian mariners and 55 U.S. Navy Sailors. Naval personnel will be primarily responsible for the ship operations. MSC personnel will man the engineering, deck and damage control departments.

Ponce departed its homeport of Norfolk, Va., June 1. Previously scheduled to decommission, Ponce delayed its scheduled decommissioning to serve as an interim AFSB until a permanent solution can be identified.