Hydrogen Fuel Cell Ferry Project Moves Forward in Norway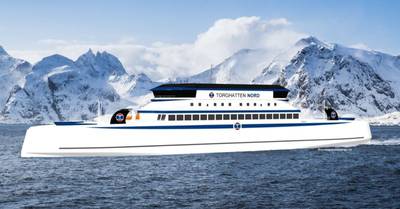 Sweden-based PowerCell said it has signed a letter of intent to negotiate final terms concerning one of the marine industry's largest hydrogen fuel cell projects.
Headed by Norwegian electrical integrator SEAM, the project comprises a pair of hydrogen fuel cell powered ferries for passenger and cargo transport in northern Norway, scheduled to enter service in 2025.
Torghatten Nord in January 2022 won a contract from the Norwegian Public Roads Administration for operation of the ferry routes crossing the Vestfjord between the Lofoten Islands and Bodø in northern Norway. The nearly 100-kilometer open ocean crossing above the Arctic Circle is considered one of Norway's most challenging ferry routes.
Designed by Norwegian Ship Design, the new ferries will each be about 120 meters long, with capacity to carry 120 cars and 599 passengers. The vessels have been awarded approval in principle (AIP) from Lloyd's Register.
PowerCell, an industrial spinout from the Volvo Group, said this week it expects to sign a contract by March 3, 2023, to supply its PowerCellution Marine System 200 for the vessels, enabling each to produce around 6 megawatts (MW) of power.
"The solution has a flexible product design with high power to weight ratio, safe operation and can easily be customized to the energy needs of different projects," the manufacturer said. "The Marine System 200 is also very durable and well adopted to the challenging marine environment and service life of marine vessels."
The two new hydrogen fueled ferries will operate year-round, requiring 5-6 tons of green hydrogen daily.
The two existing ferries currently serving the the route will be converted from using liquefied natural gas (LNG) to use biofuels, and they will accompany the new ferries in the summer tourist season.