Icebreaker Christened – Largest from Edison Chouest Offshore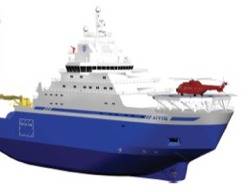 Shell's new icebreaker for oil exploration in Chukchi Sea christened 'Aiviq' by Edison Chouest Offshore in Larose, Louisiana
Claimed to be the world's largest and most powerful anchor-handling icebreaker the US$200 million, 360 ft vessel was christened Aiviq in the presence of dignatories including U.S. Rep. Steve Scalise, R-Metairie, Sen. Lisa Murkowski, R-Alaska, Sen. John Hoeven, several members of the Greater Lafourche Port Commission and Shell executives.
The Aiviq whose primary task off the coat of Alaska will be laying anchors for drilling rigs will also be equipped to deal with oil spill clean-up operations; she is built to American Bureau of Shipping A3 class standards – capable of breaking ice 1 metre thick at a speed of 5 kts.
Shell invited Inupiak schoolchildren to submit essays suggesting names for the vessel, 12 year old Elizabeth Itta submitted the winning essay, describing how the Walrus, "Alviq" in the Inupiak language, use their tusks to break ice. She won a cash prize for her school, and was flown in to attend the ceremony.