CCGS Research Icebreaker Sails on 2013 Arctic Mission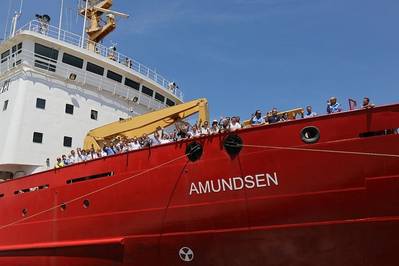 The Honourable Gail Shea, Minister of Fisheries and Oceans wished bon voyage to Canadian Coast Guard crew members and scientists aboard the CCGS 'Amundsen' who will participate in the 2013 research mission in the Canadian Arctic.

"This year marks the 10th anniversary of the CCGS Amundsen, a state-of-the-art multidisciplinary research icebreaker," said Minister Shea. "In addition to being the only Canadian icebreaker to have navigated the Arctic in the winter, the CCGS Amundsen has distinguished itself by supporting major international scientific missions in Canada's Far North."

The CCGS Amundsen is one of the few Canadian icebreakers to have a dual purpose. In winter, she is assigned to the CCG icebreaking program whereas every summer, she is chartered by ArcticNet, a scientific consortium. This year, the CCGS Amundsen will navigate the Labrador Sea, Baffin Bay, the Northwest Passage and the Beaufort Sea to study the impact of climate change and modernization on the arctic marine ecosystem.

Thanks to her skilled crew and highly sophisticated equipment, the CCGS Amundsen can at all times be deployed to take part in search and rescue, pollution control or any operations that support the security and the accessibility of Canadian waters.