IMO Sec-Gen Up North in NSR Icebreaker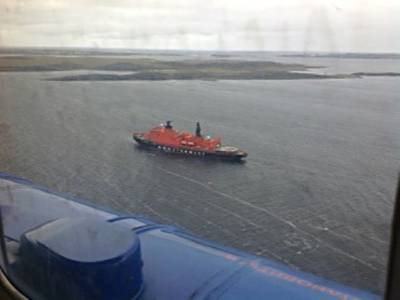 Koji Sekimizu, Secretary General of IMO is aboard the Russian icebreaker '50 Lot Pobedy' in company with Russian Deputy Minister Olersky to see for himself developments concerning the Northern Sea Route. Excerpts from his blog follow:

16, August, 2013 onboard '50 Let Pobedy'


I woke up at 07:00 this morning to the sound of the hull hitting ice. I realised that it was the ice and jumped off the bed to take a photo from my cabin window. The sea was not extensively covered by ice. We had left Dixon just a half day ago and we were navigating well into the Kara Sea.

In the afternoon, we met a convoy led by another nuclear icebreaker, Yamal. She was escorting one huge LNG carrier and a bulk carrier through the Kara Sea, navigating from the north-east. After we crossed, I received a request from the Captain of the LNG carrier to have a radio call with him and I explained the purpose of my mission, highlighting the importance of the activities of IMO for Arctic navigation, and expressed my best wishes to him.

Northern Sea Route Day 3, 17 August 2013
When my alarm woke me up at 07:00, the sea was just a calm, misty water. 50 Let Pobedy was moving ahead at cruising speed in the wide open water of the Laptev Sea. From the bridge, we occasionally saw the tips of icebergs, but the weather was very kind. The outside temperature was 4 degrees. We are located at 77.48N, 115.20E.

In the afternoon, I had a chance to address the crew of the icebreaker. I spoke about the activities of IMO in general, and specifically the Polar Code.



Afterwards, I had an opportunity to discuss various matters relating to the Northern Sea Route with Deputy Minister Olersky. Among the subjects we discussed were the availability of accurate navigational charts and the need for hydrographical surveys to be carried out, the responsibility of the newly established Administration over the Northern Sea Route, and the cost of essential services such as pilotage and assistance from icebreakers.



Except for the early hours of this morning, our voyage today has been smooth, calm and eventless since we entered the Laptev Sea. We are in the middle of a wide, open, calm sea. So long as such comfortable navigation continues, the Arctic Ocean seems to be a kind and modest sea. But we must remember that we are currently at the peak of summer and it was only this morning that we were really struggling to make headway in ice-packed fields.