Chinese Icebreaker Transits Northern Sea Route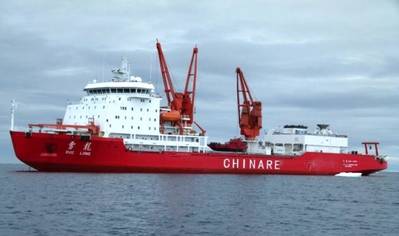 The icebreaker 'Xuelong' made the Arctic Ocean passage from China through to Norwegian waters.
The Chinese icebreaker completed the Arctic North-East Passage marking the first such voyage by a Chinese vessel and opening an Arctic route connecting the Pacific and the Atlantic for future Chinese science expeditions.
In completing the voyage, the icebreaker Xuelong or Snow Dragon channeled through five marginal seas of the Arctic Ocean: the Chukchi Sea, the East Siberian Sea, the Laptev Sea, the Kaka Sea and the Barents Sea.
According to Yang Huigen, head of China's fifth Arctic expedition team, the unprecedented voyage enabled the team to conduct Arctic research on the Atlantic sector of the Arctic and also opened up a transportation ocean route linking Asia and Europe.
The expedition team is planning to undergo further research on the Norwegian Sea and the Greenland Sea, including releasing China's first observation buoy in the region to record the interaction process between the ocean and the atmosphere.
The Xuelong, an A-2 class icebreaker capable of breaking ice 1.2 meters thick, is estimated to cover 17,000 nautical miles (27,000 km) in 90 days before it returns to Shanghai on Sept. 29.