Russia Stomps Up Funds for New Icebreakers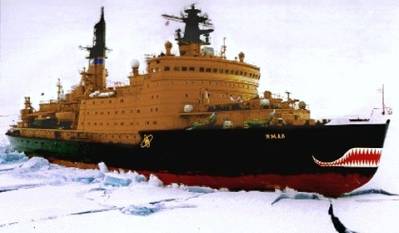 Russian Prime Minister Dmitry Medvedev has signed a decree – "On the implementation of budget investment in the construction of two serial universal icebreakers" – reports Arctic Info.
The order stipulates the allocation of budget investment for the construction of two serial universal icebreakers in 2014-2020, with funding year by year.The text of the decree also defines the state client and client (developer) for the construction of the icebreakers, which will be State Atomic Energy Corporation Rosatom and Atomflot Federal State Unitary Enterprise, respectively.

Citing the Russian government's website, Arctic Info states that the timely replacement of the nuclear icebreaker fleet, ensures both uninterrupted icebreaker pilotage on the slopes of the Northern Sea Route and year-round export of hydrocarbons from 2017 onwards from the Yamal Peninsula. Additionally, the construction and commissioning of three generic nuclear icebreakers by 2021, including a head-breaker no later than 2017, and the first and second serial icebreakers in 2019 and 2020 respectively.

Five icebreakers currently operate on the Northern Sea Route. In connection with development of the resource and the end of service of nuclear ice-breakers currently operating, only one icebreaker, 50 Let Pobedy will be in operation at the beginning of 2021. The service life of the nuclear ice-breakers with shallow draught Taimyr and Vaigach ends in 2017.

Source: Arctic Info