Avtron Upgrades Icebreakers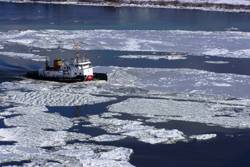 The U.S. Coast Guard recently awarded Avtron Industrial Automation a contract to upgrade the main propulsion system on its fleet of 9 WTGB Ice Breaking Tugs with the Avtron ADD-32 DMG Drive System. To date, Avtron has upgraded the electrical propulsion system for the Neah Bay in Cleveland, OH, the Bristol Bay in Detroit, MI, and now the Penobscot Bay in Bayonne, NJ. The WTGBs are 140' diesel-electric vessels which operate on the Great Lakes and the Northeastern United States. The ice breaking mission of the vessels requires them to be operational at all times. The WTGBs' existing electric drive control systems were obsolete and therefore unsupportable.
Based on previous successful Avtron drive projects with the 175' WLM Buoy Tenders and 240 ft.WLBB Mackinaw, the U. S. Coast Guard chose Avtron for the WTGB-class tugs. Over the next 3 years, Avtron will provide new Avtron DMG motor and generator field supplies, PLC, metering, and updated bridge controls for the U. S. Coast Guard's entire WTGB class of vessels.
The WTGB fleet joins a family of Avtron driven vessels including the above referenced U.S. Coast Guard Vessels, Ferries, Dredges, Ice Breakers, Research Vessels, and commercial ships.