Ice-breaking Tug Returns to USCG Base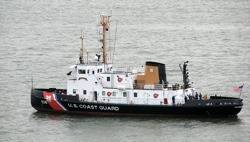 Great Lakes icebreaking mission complete, USCG Thunder Bay returns to base
The 140-foot ice-breaking tug Thunder Bay augmented the USCG fleet on the Great Lakes during Operation Taconite, a major Great Lakes ice-breaking operation this ice season.
The crew participated alongside other Coast Guard icebreakers in operations that facilitated the safe navigation of vessels and cleared paths for more than 67 commercial freighters. The cutter spent more than 175 hours breaking Great Lakes ice, keeping tracks and channels open for navigation. The crew spent 11 hours in direct support of five vessels beset by ice. Overall, their efforts contributed to the safe transit of more than 160,000 tons of cargo, valued at more than $5 million.
The crew of the CGC Thunder Bay spent the ice-breaking season operating in the northern Great Lakes due to diminished ice conditions in the southern regions. The cutter did experience unforeseen mechanical problems but Maintenance Augmentation Team Sault Ste. Marie, Mich., provided mechanical support, for which the Thunder Bay crew thanked the crew of MAT Sault Ste. Marie.
Rear Adm. Michael Parks, commander of the 9th Coast Guard District, presided over a brief ceremony to thank the crewmembers for their efforts.
"Although this winter was not statistically important, the region's intermodal transportation system was hindered by ice," said Mark Gill, of Coast Guard Sector Sault Ste. Marie, Mich., Vessel Traffic Service. "Coast Guard Cutter Thunder Bay was one of eight cutters to support Operation Taconite, and the crew's service greatly enhanced the Coast Guard's mission performance."