ICMS Installs Pontoon System in Eyemouth Harbour for CTVs Serving Scottish Wind Farm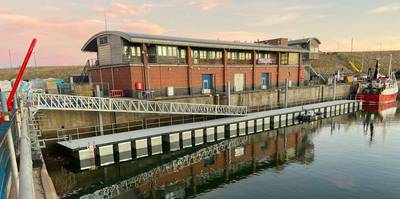 Inland and Coastal Marina Systems (ICMS) in Scotland said Friday it had installed a heavy-duty pontoon system in Eyemouth Harbour as part of the new operations and maintenance (O&M) base for the Neart na Gaoithe offshore wind farm.
The system comprises a 58m x 4m pontoon and a 27m x 4m pontoon, both with one meter freeboard to match that of the vessels, creating a berthing facility for crew transfer vessels (CTVs) serving the new wind farm which is located 15.5 kilometers of the coast of Fife, and is jointly owned by EDF Renewables and ESB.
With a capacity for displacement vessels up to 140 tonnes, both pontoons are connected to the shore via 28m x 1.5m access bridges and are with topped with GRP decking suitable for commercial application offering excellent anti-slip properties, ICMS said.
"Illumination from high-level lighting further ensures safe working conditions for workers and CTV crews all year round, day and night, during the commissioning and ongoing maintenance phases of the Neart na Gaoith Offshore Windfarm," ICMS said.
"We installed NNG's new pontoons in the busy harbor basin, on the marine side, during the build phase of the O&M building, which meant working closely with multiple contractors to ensure the project was completed safely and on time," says Calum MacDougall, Engineering Sales Manager at ICMS.
The first turbines at the Neart na Gaoithe offshore wind farm are planned to be operational in mid-2023, with the completion of the entire wind farm planned for 2024.
Once fully operational, the offshore wind farm will supply enough electricity for around 375,000 homes and will have a capacity of around 450 megawatts.