Tugboat Design Implementation Team Up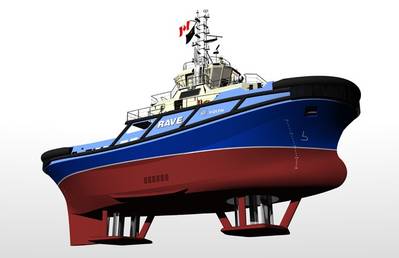 Voith and Robert Allan sign a co-operation agreenent to implement new tug concept.

Voith has teamed up with the well-known Canadian naval architecture firm Robert Allan Ltd. to develop an escort tug design – the RAVE.

While conventional Voith Water Tractors are equipped with two Voith Schneider Propellers located at the bow the RAVE (Robert Allan Voith Escort) Tug concept uses one Voith Schneider Propeller (VSP) at the bow and one at the stern arranged along the center line, thereby allowing for better tug maneuverability. In addition, the high lateral thrust forces at the stern of the tug as well as the more narrow design of the tug provide an advantage over conventional Voith Water Tractors (VWT); particularly so in narrow locks, ports or canals.


During this year's Barcelona ITS Expo Robert Allan Ltd. and Voith signed the official contract for the implementation of the vessel concept. Using model testing and numerical flow analyses, the developers have proven that the RAVE concept can be implemented. It will be developed individually depending on customer requirements. To improve the steering forces yet further, a Voith Turbo Fin can be installed as an additional option.