Important China Dual-Fuel Diesel Engine Order for Wärtsilä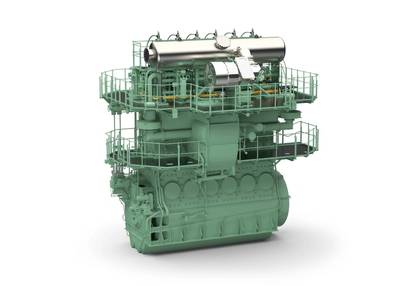 Wärtsilä inform that its new low-pressure, 2-stroke, dual-fuel engine (DF), the 5-cylinder Wärtsilä RT-flex50DF engine, together with the gas valve unit and other relevant equipment, has been ordered for a new liquefied natural gas (LNG) carrier vessel being built for the Chinese ship owner and operator, Zhejiang Huaxiang Shipping Co.Ltd.

The Qidong Fengshun Ship Heavy Industry Co., Ltd in China is building the new vessel according to the Chinese Class Society (CCS) standards.When delivered in August 2015, the 14,000 cubic metre LNG carrier will operate along the Chinese coastline to serve domestic LNG transportation lines.

The new 2-stroke DF application makes the use of LNG fuel available to virtually all vessel types. The Wärtsilä RT-flex50DF engine is the first of the new series to be manufactured, it is a low pressure LNG lean burning Otto-cycle gas engine that has additional liquid fuel back-up capability, thereby enabling vessels to operate 100 per cent on LNG.

"This second contract for the Wärtsilä low-speed dual-fuel engines in a few months demonstrates the fast market acceptance of this "game-changer" technology. This is the first time that Wärtsilä low-speed DF engine will power an LNG carrier. It represents a very feasible solution for this vessel class. The extension of Wärtsilä low-speed DF engine portfolio to bigger bore sizes such as the Wärtsilä X62DF and Wärtsilä X72DF engines will further expand the range of applications for the low-speed DF engine family to larger container vessels, tankers, LNG carriers and bulk carriers," says Mr Martin Wernli, Vice President 2-stroke, Wärtsilä Ship Power.

Wärtsilä explain that Zhejiang Huaxiang specialises in the safe transportation of LNG, and is one of the only two companies who have the Business Certificate of LNG transportation in coastal China issued by the Ministry of Transport of the People's Republic of China.