Size of London Gateway Port Impresses Minister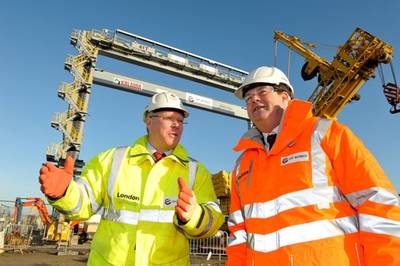 UK Transport Minister, Stephen Hammond, goes to see London Gateway's state-of-the-art port technology.
Fully automated stacking cranes (ASCs) currently being installed at the UK's new national hub port will increase reliability and ensure smoother, more efficient operations 24 hours a day, even in weather conditions that would force non-automated systems to close.

One of the first to view the new equipment being erected was UK Transport Minister Stephen Hammond, who witnessed the first of 40 ASCs being constructed at London Gateway, which opens later this year.

Stephen Hammond MP, commenting on the 'immense scale' of the new London Gateway port and Europe's largest logistics park, said: "It really is quite an astonishing example of how UK plc can bring together the best of the best to plan, design, finance, construct and operate world-leading port infrastructure."

The reliability offered by fully automated ASCs that are able to operate in adverse weather conditions comes as welcome news to hauliers who are often required to deliver containers to warehouse or distribution centres within a 15-minute 'window'. A port operations stoppage can cause immense disruption, as time slots can be lost, adding unnecessary cost, delays and frustration across supply chains.

The new port's location is also another vital part of the mix – not only on the doorstep of the capital, but also closer to the major population centres of Birmingham and Manchester, which means, substantial cost savings for supply chains as a result of less road miles and time needed to move containers inland.

Independent studies predict that more than 65 million road miles and 148,000 tons of CO2 emissions will be eliminated from the UK's supply chains when London Gateway is fully built.

The London Gateway construction site spreads over an astonishing three square miles. The Minister was able to see for himself the extraordinary pace of activity as 2,000 construction workers build the new port and what will be Europe's largest logistics park.

London Gateway is one of the UK's largest privately funded infrastructure projects and is expected to create 36,000 jobs when fully developed.

In the picture from left: Simon Moore, CEO, London Gateway explains the benefits of the new cranes to Transport Minister Stephen Hammond during a tour of Britain's new deep-water container port.