Ship Unloader Signals Start of Richards Bay Improvements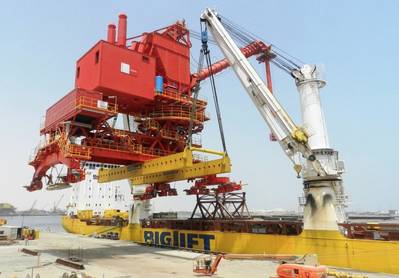 Arrival of a pneumatic ship unloader at Richards Bay, South Africa, bulk terminal marks start of equipment renewal project.
Port operator Transnet Port Terminals (TPT) has earmarked the biggest slice of its R33-billion budget over the next seven years for new equipment acquisition projects at Richards Bay, the country's largest bulk export facility.
The arrival of one of the terminal's largest assets, a custom-built pneumatic ship unloader produced by Swiss shipping manufacturer, Rio Tinto Alcan (RTA) Alesa Engineering Ltd. sends a powerful signal of Richards Bay modernisation project.
The unloader is only the seventh of its kind in the world, able to unload alumina and petcoke from vessels and will facilitate a homogeneous and dust reduced material flow. It has the capacity to unload 1000 tons per hour by design, making it a valuable acquisition in improving the terminal's operational efficiency.
TPT client BHP Billiton Aluminium SA expressed its commitment to working with its long-standing partner TPT to ensure the success of the newly acquired pneumatic unloader.
TPT has prioritised major MDS projects to be embarked on in Richards Bay over the next seven years which include:

• R3.7 billion on capital sustaining investments including mobile equipment, quayside equipment and weighbridges. Also included are safety critical projects as well as environmental and legal compliance projects.
• Approximately R1.2 billion to be spent on capacity creation, such as new or upgraded storage areas and re-engineering of the port to create additional capacity.