US Flagged Heavy Lift Ship Makes Inaugural Homeport Debut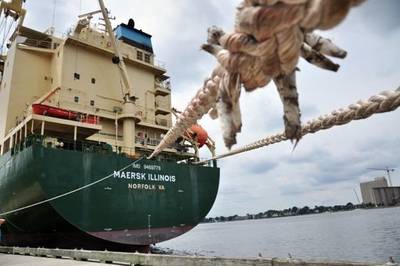 Maersk Line's 'Maersk Illinois' makes her first homeport call in Norfolk, Virginia.
The call in Norfolk affirmed the value of the Maersk-Rickmers heavy-lift service and brought together customers and constituents who rely on and support U.S. flag shipping.
In May 2012, Congress reauthorized the Export-Import Bank's charter to finance American exports and in doing so upheld U.S. cargo preference laws. The reauthorization helps maintain a stable business environment for capital investments, like the acquisition of Maersk Illinois and her sister ship, Maersk Texas.
Maersk Illinois and Maersk Texas are heavy-lift multipurpose vessels owned by Maersk Line Ltd. (MLL) and operated in partnership with Rickmers-Linie (America). The two companies formed Maersk-Rickmers to provide commercial service to shippers of break-bulk and project cargo. Both ships can lift 480 metric tons and transport cargo such as diesel generators, wind turbine components, dump trucks, railway trains and other large pieces of equipment. Maersk-Rickmers competes in international markets and for U.S. flag-impelled cargo.

While in Norfolk, Maersk-Rickmers hosted a vessel tour and reception for guests from the U.S. Navy's Military Sealift Command, U.S. Maritime Administration, National Science Foundation, the Virginia Port Authority, commercial customers, and maritime industry executives.