DP World Inaugurates Jebel Ali Inspection Facility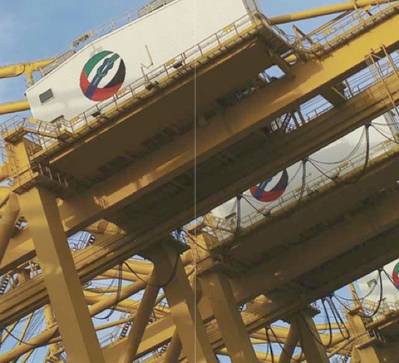 DP World informs it has inaugurated the largest and latest container inspection facility at its flagship Jebel Ali Port in Dubai. The new facility is one of the largest inspection facilities in the region, spanning over 7,000 square metres and providing 59 customs, health and environment inspection bays.

Delegations from the Ministry of Environment and Water, DP World, Dubai Customs, Dubai Municipality and World Security toured the new state-of-the-art facility, which is equipped with the latest technologies, to inspect inbound cargo containers arriving through the 6 million TEU (twenty-foot equivalent container units) capacity Terminal 2.

His Excellency Dr. Rashid Ahmad Bin Fahad, Minister of Environment and Water, said: "Sustainability represents a cornerstone of the policy of the UAE development, and has been adopted as a major axis of Expo 2020, the international event that we are all proud to work and be ready to host in Dubai. This new facility at Jebel Ali, the port gateway and the biggest transit of imports to the UAE, is a great achievement and an important contribution to the promotion and the efficiency of procedures for quarantine and veterinary, and in our efforts to sustain environmental security and higher rates of bio-security and food. I would like to take this opportunity to congratulate DP World on its prestigious achievements, and the transforming of Jebel Ali Port into a mega hub port."

Mahboob Musabih, Director of Dubai Customs, said:
"The new customs inspection facility operates 24/7 to keep up with the continuous increase in the capacity handling at Jebel Ali Port, and strengthening Dubai's position on the global trade map as a leading regional hub, as well as to promote the development of Dubai as a leading destination for business and trade, by simplifying and speeding up procedures with maintaining the security and safety of the community and the economy.

"In order to achieve these strategic objectives, Dubai Customs implemented the latest international system for containers scanning and inspecting and moving trucks contents via X-ray, which is capable of scanning 150 trucks per hour while driving at an average speed ranging from 8 to 15 Km/h, the equivalent of one truck every 24 seconds. Linking the Container Scanning System with the Custom's Declaration System to be fed with information from different sources helps in identifying suspected shipments with great accuracy, raising the commitment and the fight against the illicit trade in line with the vision of Dubai Customs."