Incat Natchan Rera Receives Award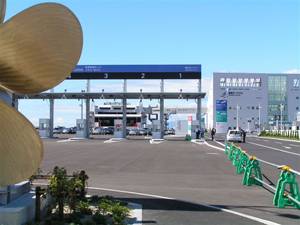 The Natchan Rera, the first of Incat's 112 metre Wave Piercing Catamarans, has been recognized at Europe's annual ferry industry event, the Shippax Ferry Shipping Onboard Conference, attended by some 300 ferry shipping executives.
Japan's Higashi Nihon Ferry won the coveted ShipPax Hispeed Concept Award, recognizing the implementation of an integrated ferry system with state-of-the art port terminals as well as the largest diesel powered high speed ferry with separate truck and car decks. The ship's "innovative and high-grade accommodation, with a walk-around internal promenade and the first escalator installation in a lightweight fast ferry," also received special mention.
The ShipPax Award was launched as a means to stimulate innovative solutions , promoting noteworthy design features across various categories on newly-delivered ferries, RoRo and cruise vessels and is considered as the most prestigious trade award in this sector of the industry.
To the winner in each category, a diploma is issued and sent to respective ship owners and builders. The diploma is accompanied by a glass sculpture, handed over to the ship owner to be displayed onboard the award-winning vessel.
The Natchan Rera operates across 's Tsugaru Strait between the islands of Honshu and , approximately halving the time currently taken for voyages between and by conventional ferries and greatly enhancing the convenience of regular passenger services. On 2nd May she was joined in service by a second Incat 112 metre ferry, the Natchan World and both offer a crossing time of one hour and 45 minutes on the 61 nautical miles passage.