Rescuers Help Dolphins Escape Indonesian Circus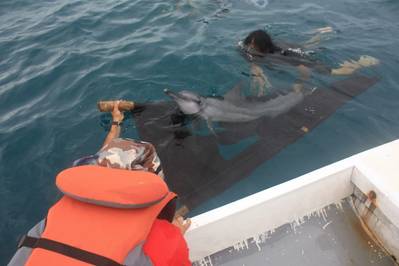 A dolphin protection group has helped to facilitate the confiscation, rehabilitation and release of illegally caught dolphins bound to be sold for Indonesia's traveling circuses.

The California based organization Dolphin Project said it received reports in mid December that three wild dolphins – two spinners and a bottlenose – were being held with more than 30 reef sharks in Karimunjawa, Indonesia in a shallow pool known for allowing visitors to take selfies with sharks.

It was discovered that the bottlenose was severely injured from capture, and the dolphin died within hours.

With the assistance of local authorities, the Dolphin Project's Indonesian marine mammal team helped to confiscate and relocate the two living spinner dolphins via police boat to a permanent rehabilitation center in the Karimunjawa National Park. But despite the rescuers' efforts, a second dolphin died four days later, also from injuries suffered during capture.

The third dolphin was determined to be healthy and was released into her home range, and with luck will be able to rejoin her pod.