Indonesian Navy Selects VSTEP Bridge Simulators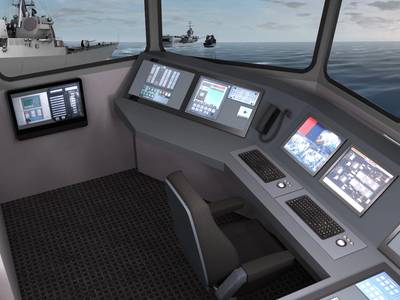 For training of its Sigma Class Corvette bridge personnel, the Indonesian Navy and Ministry of Defense selected VSTEP to supply two Class A NAUTIS Full Mission Bridge (FMB) Simulators for its Kobangdikal marine training facility in Surabaya.

The Indonesian Navy is currently modernizing its fleet to more effectively combat maritime crime and piracy. Beginning 2012, the Indonesian Navy added several Sigma Class Corvettes to its active fleet. To allow realistic training of the Sigma Class bridge personnel, the Navy ordered two NAUTIS Full Mission Bridge Simulators, each with a 270 degree field of view projected on a cylindrical screen. The simulator bridges match the actual SIGMA Class Corvette bridge, allowing efficient and true-to-life bridge operations and navigation training. The Indonesian Navy also ordered five custom built ports and customized navigation screens. VSTEP cooperated with local development and implementation partners to increase the local content.

The NAUTIS FMB simulators were delivered by maritime simulator developer VSTEP in cooperation with its Indonesian partner Terravision. The Kobangdikal Marine Facility in Surabaya counts as one of the most important development, training and education facilities of the Indonesian Navy. In addition to the two Class A NAUTIS FMB Simulators, two NAUTIS Instructor Stations and two NAUTIS Desktop Training Simulators have also been installed at the premises.