Global Industries to Take Delivery of Global 1201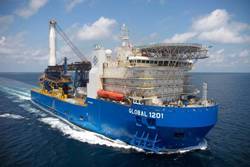 Keppel Singmarine Pte Ltd (Keppel Singmarine), the specialized shipbuilding arm of Keppel Offshore & Marine Limited (Keppel O&M), is on track to deliver GLOBAL 1201, the second new generation derrick pipelay vessel to Global Industries Ltd (Global Industries) safely, on time and within budget. Keppel Singmarine was awarded a S$50,000 (over $40,000) bonus from Global Industries for achieving zero-incidents during the construction of this 162 meter-long double-hull vessel.

Tong Chong Heong, CEO of Keppel Offshore & Marine, said, "GLOBAL 1201 is a great example of excellent teamwork and reflects a strong alignment of goals and priorities between Keppel Singmarine and Global Industries. Together, we have achieved greater construction efficiency and execution on this second derrick pipelay vessel, without compromising the safety of our people and workplace."

GLOBAL 1201 was named by Lady Sponsor, Deidre Reed, wife of Global Industries' CEO John Reed, at Keppel Singmarine on June 25. It was designed to operate in waters up to 3,000 meters deep, and complies fully with the International Maritime Organization Special Purpose Ships codes.

Reed said, "Keppel Singmarine has proven once again, its strong expertise in custom-building advanced vessels, especially those with dynamic positioning capabilities. Responsiveness and versatility are key strengths of theirs, which we at Global Industries appreciate very much.

"With the addition of both G1200 and G1201 to our fleet, I am confident that Global Industries will continue to raise the bar of excellence in pipeline construction worldwide."