Cruise Ship Disasters Inevitable Says Professor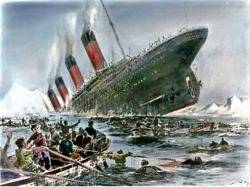 Cruise ship disasters on scale of Titanic inevitable says Texas A&M professor
On the 100th anniversary of one of history's most tragic events – the sinking of the Titanic – and the question often asked is, could such a disaster happen again? The answer is not only "yes," but it has happened many times since and will almost certainly happen again, says a Texas A&M University oceanographer.
Mahlon "Chuck" Kennicutt II, professor of oceanography who has conducted marine research for 30 years, says the Titanic has captured the public's attention as few ships have ever done.
The recent capsizing of the Italian cruise ship Costa Concordia (which carried more than 4,200 passengers and crew) resulted in 30 deaths and has captured worldwide attention, but since the Titanic, there have been numerous other ship tragedies.
He notes that in 1987 in the Philippines, the passenger ferry Dona Paz collided with an oil tanker, igniting more than 8,000 barrels of petroleum products. More than 4,300 people died and later it was shown that the ferry had far exceeded its passenger and cargo limits.
In 2002, another ferry, the Le Joola capsized off the coast of Africa and killed more than 1,800, while in 2006 another ferry had mechanical trouble and coupled with high winds, sank in the Red Sea, killing more than 1,000 people. One highly publicized disaster occurred in 1994 when the cruise-ferry Estonia had faulty locks and it sank in the Baltic Sea, killing 852. There are dozens of other examples.
Kennicutt says one reason there are bound to be future maritime disasters is the sheer number of ships in the water. It's been estimated there are about four million commercial fishing vessels in the water at any given moment, not to mention the tens of thousands of military ships, oil tankers, cruise liners and pleasure craft.
"The Gulf of Mexico is a good example," he points out. "It has thousands of shrimp and fishing boats, recreational craft, commercial shipping lanes and don't forget the nearly 4,000 oil and gas platforms that have supply ships constantly departing and arriving."
"Despite our best efforts and highly sophisticated technologies, human error is the one major unknown that is difficult to control as we tragically saw in the recent BP oil spill. No matter how advanced we make ships, they are still operated by people. Even highly trained and experienced ship captains make mistakes. As they say …'to err is human.'"